Body by Vi Costs & Prices
Healthy Options Don't Have to Cost More
When ViSalus Sciences® created the Body by Vi™ Challenge, there were 3 important goals in mind. The weight loss program had to be 1. Easy 2. Effective 3. Affordable Cost. This is why Body by Vi's growth has exploded in North America and the UK.
Every morning, millions of Americans swing through the drive-thru at fast food restaurants on their way to work and spend $5 to $7 on a so-called "value meal" that is loaded in calories, fat and sodium. Or, they drop by the local coffee joint and spend $8 or more on a latte and bagel that is up to 850 calories (that's minus the cream cheese!) and full of sugar. Many people never consider the prices of these unhealthy meals or how the cost adds up over the course of a week, a month or year. Body by Vi offers a convenient, healthy and cost-effective alternative that will take pounds off and put the savings back in your pocket!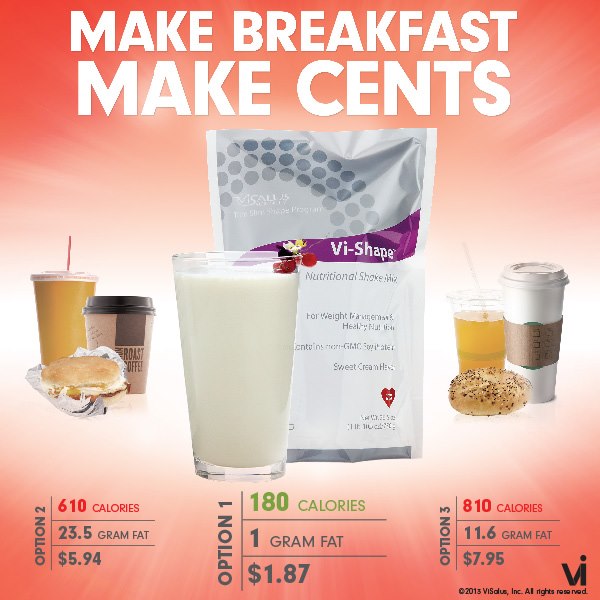 A tasty, nutritious Body by Vi shake only costs around $1.87 and has 180 calories and less than 1 gram of fat when mixed with skim milk or unsweetened almond milk. That's a price all of us can afford!
When selecting ViSalus products and Body by Vi Challenge Kits, customers have the option to purchase at wholesale prices by signing up for monthly auto-ship or selecting a one-time order at Retail price. By far, most customers select the wholesale price auto-ship option since it is flexible and can be paused or canceled at any time. Auto-ship prices can save customers up to 20% on Challenge Kits and will even save you $14 on a single pouch of Vi-Shape Nutritional Shake Mix! Auto-ship saves you money on all ViSalus products, including our popular Vi Crunch™ Super Protein Cereal, Nutra-Cookies™, Vi-Slim™ Metab-Awake! Tablets, Vi-pak®, ViSalus NEURO® Drink Mix and lots more.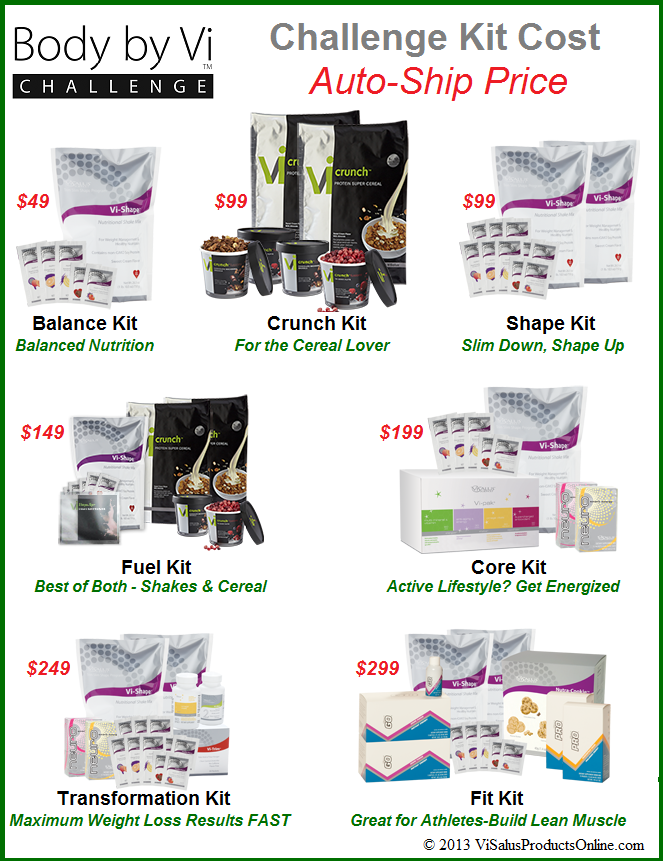 Wholesale Prices with Auto-ship
One-time Retail Order Without Auto-ship
Meal Replacements = Cost Savings $
An important factor when considering Body by Vi is to understand that our shakes are formulated to replace meals. Many people want to lose weight or improve their health but are often scared away by the cost. It's important to remember that with Body by Vi, you will not be adding to your monthly food budget because you will be replacing one or two meals a day with a healthy shake. So, you will be buying less at the grocery or at the pricey, unhealthy fast food drive thru. In most cases, customers save money each month!
The Cost is Even Less with
3 For Free
You Can't Beat the Price of Free!
Have you ever noticed how much easier it is and how much more successful you are on a weight loss or health improvement goal when others you know are on the same mission? Studies show that the best way to achieve your weight loss goal is by doing it with friends, family or co-workers.
With the Body by Vi 3 for Free Program, losing weight doesn't cost a thing. It is easy:



1. Simply select the Challenge Kit that best matches your weight loss, health or fitness goal and put it on auto-ship.


2. Help three other individuals get on the Challenge Kit of equal or greater value to your own Kit.


3. Then you get your next Kit for Free! And, you will continue to quality for your Free Kit month after month as long as you meet the above criteria.