Results
Body by Vi™ Results

The Numbers Tell the Story
Look at the numbers today and you will see that what started as an idea has rapidly evolved into a full-fledged North American health movement. Now with the launch of Body by Vi™ in the UK, the Challenge is spreading throughout Europe. Almost 1.5 million people joined the Body by Vi™ Challenge in 2012, with more than 500 million ViSalus™ Vi-Shape shakes served and millions and millions of pounds lost. The numbers continue to climb with more and more people joining the movement in 2013. With those numbers, it is clear that "Challengers" are getting results and sharing their experience with family, friends, neighbors, co-workers and other folks they meet along their weight loss and fitness journey.
Challengers don't just try the Challenge once and then move along. They commit to a 90-day goal. Folks with big weight loss ambitions usually break up their Challenge into multiple 90-day milestones. Amazing weight loss results of 100 pounds are reported, so much so that a 100-Pound Club arose. As additional 90-day Challenges have ensued, the 200-Pound Club was begun to recognize the absolutely astonishing weight loss results that some Challengers have achieved.
Over 232 million people in the United States and Canada are overweight and obese. How did this happen? The old saying "you are what you eat" rings true. Americans consume 500+ more calories a day now than 25 years ago. The Body by Vi™ Challenge allows you to take control of your diet by offering a simple, sensible and easy plan that is scientifically-formulated to help your body achieve optimum nutritional balance, burn fat, control hunger and safely rev up metabolism.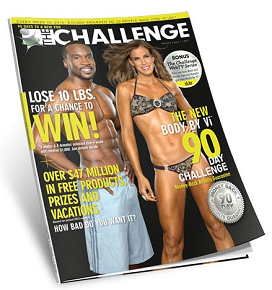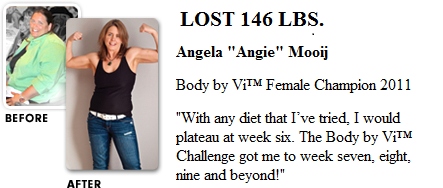 Success...One Challenge at a Time
Since the launch of The Challenge, the success stories have come in by the thousands. "In creating the Challenge, we took a hard look at why people fail at most other programs, and set out to create something simple, something social and something that could be affordable enough to fit today's lifestyle," Blake Mallen, Co-Founder of ViSalus Sciences®, recently told "The Challenge" magazine.
One of the key components of the NEW Body by Vi™ Challenge introduced in 2013 is Project 10. Every week in 2013, ViSalus awards a total of $10,000 to 10 Challengers who lose 10 lbs. 5 females and 5 males that lose 10 lbs on the Challenge win $1000 cash prize every week. EVERYBODY who loses 10 lbs. earns a cool "i LOST it" t-shirt as a reward for their success.